Sending invoices one at a time can be a time consuming process. Yardbook offers an advanced feature where you can email multiple invoices in a single batch. You will create invoices as usual, and when it's time to send them, you can mark individual invoices as "Ready for Batch Email", and then send them all together.
Enable Batch Email
By default, the batch email feature is turned off.
To enable this feature, navigate to the Invoice Settings page.
(Invoices->Action Menu->Settings)
Enable the "Batch email Invoices" option.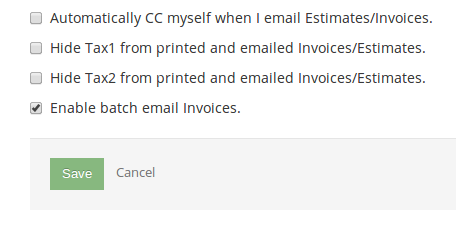 Click "Save".
Review and Mark Invoices as Ready
You can mark an invoice as "Ready for Batch Email" by using the Actions Menu. It's available in the Invoice Detail Page and the Invoice List Page.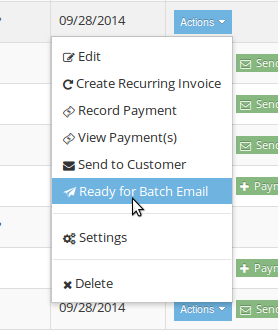 Once an invoice has been marked as ready for batch email, you will see the following symbol/indicator next to the invoice #.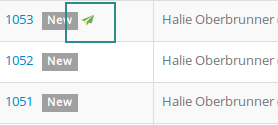 * While having a batch email feature makes the billing process more streamlined, it is very important that invoices are individually reviewed before they are marked as ready. You should closely review each invoice and mark them "Ready for Batch Email" only when all the details have been reviewed.
Send Batch Email
After you have marked multiple invoices ready for email, you're now ready to send them to your Customers.
Click on the "Batch Email" link near the top of the Invoice List Page.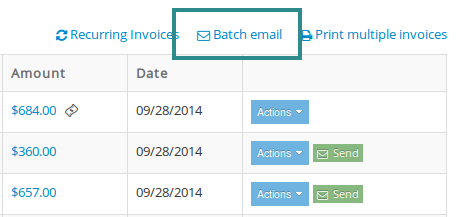 This will take you to the Send Batch Emails Page.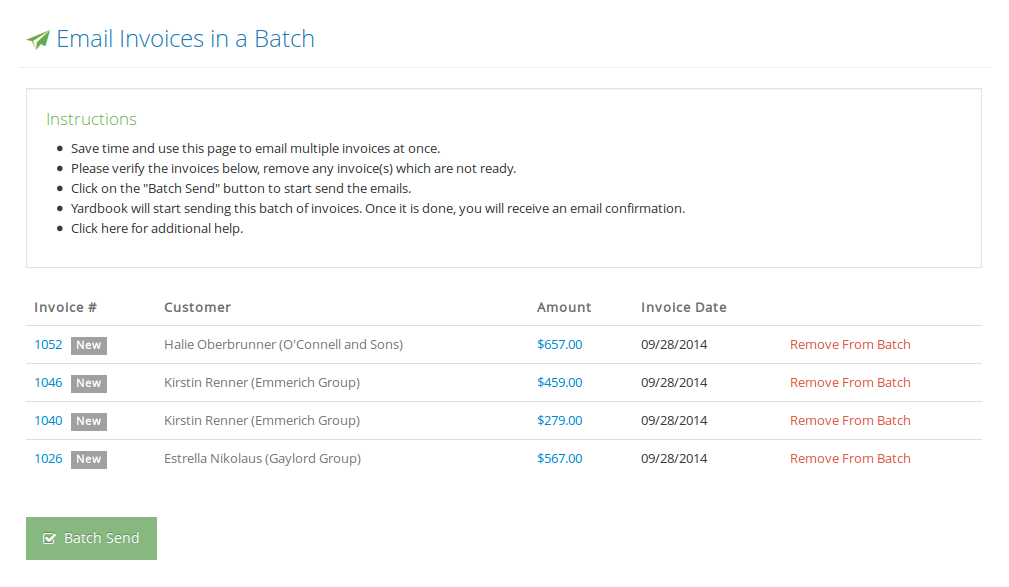 Here, you will see all the Invoices that are ready to be sent in a batch.
At this point, you can still remove Invoices which you'd like to hold off on and not send in this current batch.
When you are ready, click the "Batch Send" button.
Yardbook will start sending this batch of Invoices. Once it is done, you will receive an email confirmation. If any Invoices were not sent successfully (ex. customer's email is missing), you will also be notified via an email from Yardbook.