While Yardbook has always provided a single view to track customer's billing history (including balances), it did not automatically set the past due amounts on new invoices.
With our latest release, you now have an option to have Yardbook automatically calculate the past due amount and set it for you.
Important Notes
The system will only set the past due amount when an invoice is created, or when the customer has been changed on an invoice. Otherwise, it will not automatically update the value. However, you can manually update the past due amount at any time by changing the "Past Due Amount" field in your invoice details page.
The past due amount is calculated based on the following logic
All active invoices amounts – (all payment amounts) – (all non-payment credits)
The past due amount will be automatically generated for both manual and auto-generated invoices.
Setup
Sitemap -> Company Profile -> Settings
Click on "Update Invoice Settings"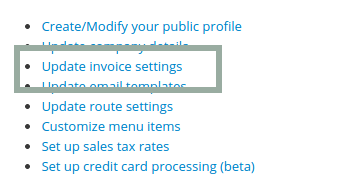 Enable the "Automatically set the past due amount on invoices." flag, and save.