In addition to the many other benefits of creating a Yardbook account, you will also have the ability to create a public profile (sample) for your growing business. Having a detailed business profile page provides a host of benefits for you and your company. Through your profile you are able to customize only the information you want to convey to your audience, making sure you are attracting your ideal client and marketing your business in a way that is comfortable for you. In addition to this, your profile will enable you to better connect with your current and future customers, which will assist you in developing positive business relationships.
Creating your business profile page is simple! Within just a few short minutes, you can easily build a beautiful and highly informative profile from scratch. Once complete, your profile page can be found when current or potential clients search for your business online. In addition, you can also link it directly from your own website and/or printed materials, giving you added marketing power for your business.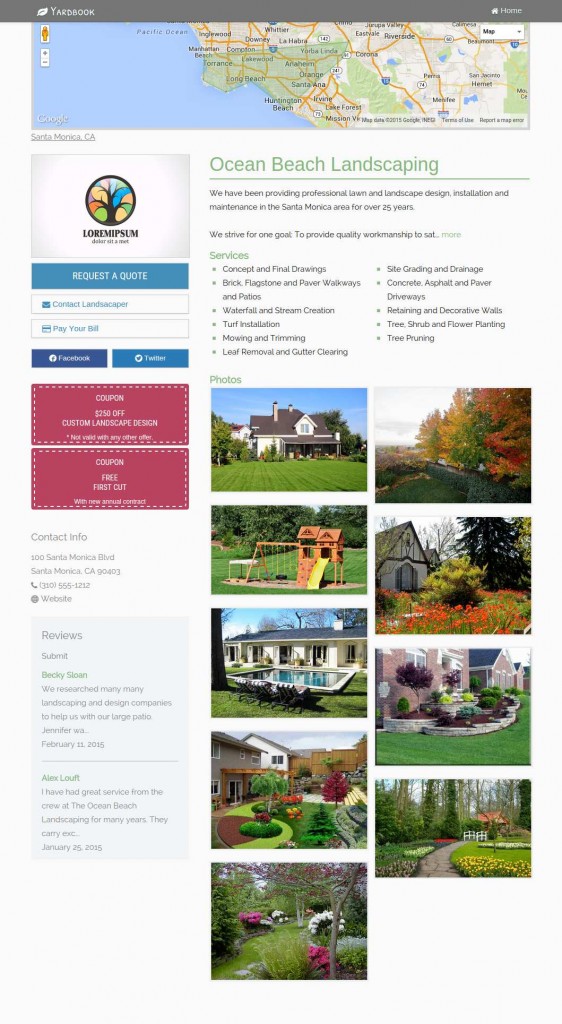 Let's take a look at some of the features your profile page offers:
1) Showcase photos of your business
2) Offer discounts and coupons to current or future clients
3) Describe the services you offer
4) Receive testimonials (optional)
5) Highlight your service areas (optional)
6) Receive online payments (optional)
7) Link to other sites and pages (E.g. – your business website and Facebook page)
Get started creating your business profile page now!
Login to your Yardbook account.
Click on Sitemap.
Then, click on Edit Public Profile.
It's that simple!
Update: Now, you can also get a homepage view based on your profile information